When asked by Morrow Cookbooks (Harper Collins) to blog about another Patricia Wells cookbook, I was all for it. Then I realized the title- Simply Truffles. Uh oh... to test a few recipes is going to cost a small fortune and I wasn't sure I could easily find truffles here in Columbus - even from our beloved North Market. I own (and liberally use) truffle salt and truffle oil (NOTE: be sure to buy the real oil & not the 'manufactured essence'.), but have never ventured to purchase truffles proper. Having had a great time blogging earlier this year for Patricia's Salad As A Meal cookbook, I felt I should give this a go. If I can't buy truffles directly from a store, the back up plan is to find a chef here in town who might sell a bit of the 'black diamond' to a desperate truffle junkie.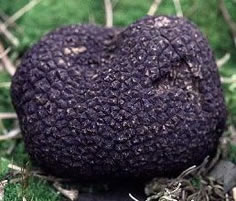 I knew back in April this book was in production and figured
it would be a wonderful read. It is. I have raved in past posts about Patrica Wells's exceptional narrative and ability to make you feel as if she invited you to dinner; creating these recipes just for you. This book is no different. She writes about the folklore and pursuit of truffles and, as usual, offers wine pairings for each recipe. I also appreciate how she takes the intimidation out of recipes that seem unapproachable- which, to some people's minds is French cuisine in general.
Let me just say up front that nearly every recipe in this book stands alone. If you can't afford or find truffles, you can replace them with just about any nutty, meaty mushroom- like porcini (I'd suggest skipping the button family because the objective is to infuse into the
dishes the earthiness of truffles)... While this recommendation might undermine the whole point of her cookbook, I think it's important to remember a recipe is more than just one ingredient. These recipes seem to have versatility and flexibility even beyond replacing the truffles.
Granted, this suggestion might not work so well with the simple "truffle salt" recipe, but the
Goat Cheese Cannelloni with Morels and Truffles gives us a bit of wiggle room... well, sorta.
Pasta and mushrooms. Simple. Right? This homey, cheesy, comforting recipe caught my eye immediately. Of course, the fundamental ingredients call for
pungent, garlicky
truffles and yet another popular
Provencal fungus- morels. Interestingly, morels are
competitively hunted here in Ohio. T
hese hard-to-come-by 'shrooms- dubbed the "truffle of Ohio"- are in season during spring's rainy months and require keen knowledge to pick them out from under dead deciduous trees. But once you get your hands on a few, make this dish!
(Tim Lessner-- Come April, I am kidnapping you to go morel hunting).
Don't let this recipe scare you. Though it is long, it is not as daunting as it seems. In fact, it's fairly simple once you read through and prep all of your ingredients. This is
a dish that can be prepared in advance of dinner and quickly heated when it comes time to eat. Pair the cannelloni with a crisp, acidic, mushroom-friendly white wine, like a white Rhone. Simply Trufflicious...
Goat Cheese Cannelloni with Morels and Truffles
EQUIPMENT:
Dampened cheesecloth; 10-quart pasta pot fitted with colander; four 6-inch gratin dishes; baking sheet
RECIPE:
6 oz. fresh goat cheese
2 large ultra fresh eggs, room temperature, lightly beaten
grated zest of two lemons
fine sea salt
1 1/2 oz. dried morels
12 inch square sheet of fresh pasta
1/2 cup Parmigiano-Reggiano cheese
1/2 cup truffle & morel cream sauce (

See recipe below

)
1 fresh black truffle- about 1 oz. - cleaned
1. Place cheese on a large plate. Cover it with eggs & lemon zest. Mash with a fork until the mixture has thick, smooth consistency. Taste for seasoning. Prepare up to 4 hours in advance & refrigerate.
2. Place the morels in a colander and rinse well undercold running water to rid of any grit. Transfer them to a heat proof bowl or measuring cup. Pour 2 cups of the hottest possible tap water. Let soak for 20 minutes to plump up.
3. Arrange rack in center of the oven. Preheat oven to 350 degrees.
4. Carefully remove mushrooms from water with slotted spoon leaving behind any grit in the liquid.
5. Place dampened cheesecloth in colander set over large bowl. Carefully spoon the morel soaking liquid into the colander, leaving behind any grit in the bottom of the bowl/measuring cup. This liquid is used to prepare the morel truffle sauce.
6. Prepare a large bowl of ice water. Arrange three kitchen towels on the counter, for draining the pasta.
7. Cut the sheet of pasta into 16 3-inch squares.
8. Fill pasta pot with 8 quarts of water and bring to a rolling boil over high heat. Add coarse sea salt. Drop in as many pasta squares as will comfortably float in the water. Cook for about 30 seconds, removing square with a slotted spoon
while still very al dente
. Transfer them to the ice water. Once all are cooked and into the ice water, give the pasta squares a swish around and remove them to the towels, arranging them in a single layer.
9. Place gratin dishes side by side on the baking sheet.
10. Lift a square of pasta off the towel and turn it over. This ensures the pasta will not stick tot he towel while making the cannelloni. With a small spoon, spread about 2 teaspoons of the goat cheese mixture evenly along a third of the pasta square. *
*Do not fill all the way to the edges for fear of leaking**. Carefully roll the square into a cylinder- jelly-roll fashion. Place the cannelloni in the gratin dish, seam side down. Repeat until you have
four rolled cannelloni side-by-side in each gratin dish. Sprinkle with grated cheese.
11. Cover each gratin dish securely with foil to prevent pasta from drying out while cooking. Place the baking sheet with all four gratin dishes into the oven and cook about 20 minutes- or until the cannelloni are bubbling.
12. While the pasta cooks, prepare the truffle. With a vegetable peeler, peel the truffle. Mince the truffle peelings for another use, Cut the truffle into thick slices, then matchsticks.
13. Remove from the oven. Remove foil and garnish each with the morels and several tablespoons of the morel-truffle sauce. Garnish with truffle matchsticks. Serve hot.
TIPS:
To infuse eggs with truffle aroma and flavor, store a whole fresh truffle and eggs (in their shells) in an airtight container in the refrigerator for at least two days and up to a week.
ALL PURPOSE TRUFFLE-MOREL CREAM SAUCE:
Be sure to save the grit-free liquid reserved from plumping the dried morels.
1 cup morel soaking liquid
1/2 cup truffle juice (from can)
1 cup heavy cream
1. In a large sauce pan, reduce the mushroom liquid uncovered over high heat by half, about 10 minutes
2. Add the truffle juice and cream to the saucepan. Reduce, uncovered over high heat by half. About 15 minutes.
3. pour through a fine seive into a bowl. Store in airtight container for up to three days or in the freezer for up to 6 months. Reheat at serving time.