It's official. I have resigned from formal recipe testing and cookbook blogging in order to focus my efforts on writing a travel guide, Wanderlust Tours, and a few other travel-related projects. It's only been a few weeks, but I already miss the idea of formally cooking and writing about it.
To appease the inner foodie, I have created a Kitchen Bucket List of things I have always wanted to make, but haven't had the time, courage, or (more likely) the patience- a kitchen virtue I am forever seeking. I figure the bucket list provides culinary goals which can be worked through at my leisure without the pressure of time frames and deadlines--- but unfortunately, also without the fabulous free cookbooks, prize giveaways, and grocery reimbursements! So here it is. Version one. In no particular order. The Bucket List will be updated as flashes of inspiration- or insanity- strike.
Come follow ours and other home cook's progress on Facebook.
Kitchen Bucket List- Round 1
Souffle
Chocolate, cheese, whatever.... it's one of the few recipes that have been on my culinary radar for at least a decade, but the idea of making one frightens me even more than the daunting task of macarons. And this past winter, Mandy and I successfully took on macarons, of which the intimidation factor was about a 9.7.... Heck... I can make a mean quiche. Souffle will be conquered by Easter.
Cassoulet
And I don't mean the Americanized version with all white chicken meat and canned beans. I'm talking the full-on proper Castelnaudary (or Carcassonne or Toulouse) version with pork sausage, goose or duck, mutton, and white beans slow cooked, allowing a glorious crust to form on top. S
outhwestern French t
radition holds the crust must be poked through and stirred back into the stew, allowing it to reform four times. No wonder it takes all day to make. The ulterior motive: a perfect excuse to buy that Le Creuset Cassoulet pot & bowls I've been eyeing up for a few years.
Bagels
Yup. Never made them. Doesn't seem very hard. Just never took the time to do it... Since we can never keep it simple, we'll have to up the difficulty level by making our own cream cheese too. Might as well go salmon fishing while we're DIYing.
In A Pickle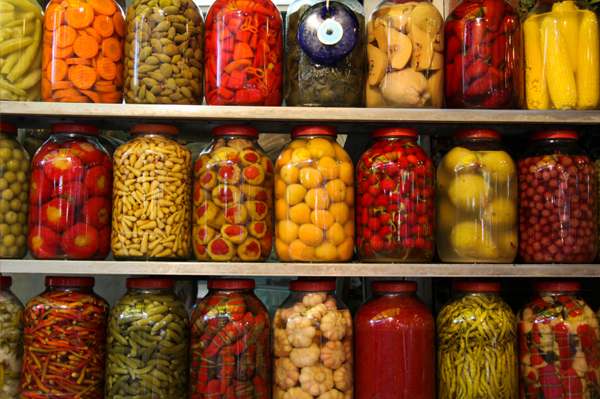 I have declared 2012 the year of DIY-- as much as time permits. It will be helpful when the garden is overflowing with produce needing to be pickled and preserved and herbs that need to be dried. Fruit jams/preserves are not on the radar for now. In this household, fresh fruit is better served in original form over cottage cheese or ice cream. Although I must admit, Tamra Fuscaldo's blackberry preserves were dy-no-mite as filler for a variety of desserts. At this point, I am going to practice pickling veggies very soon. I need to study up on the art of preserving-- and botulism... how not to get it.
Preserved Lemons
Kevin and I have a North African inspired dinner almost once a week. A Moroccon flavor profile turns up in the tagine pretty regularly. Preserved lemons are often called and I never have them around. I love the aroma and distinctive salty-pickly-lemon flavor they bring to dishes. This girl wants a pantry full of preserved citrus with which to experiment. Preserved lemons, limes and rangpur limes should be in the mix. And lurking in the back of my mind is the recipe for Preserved Lemon Salt-- a by-product of this process, but not enough of a goal to make the bucket list on its own. Since Meyer lemons are in season, this is most likely the first thing that will be checked off the list.
Mozzarella Cheese
I have never made cheese, nor have I thought about it until discovering Junket (see previous post) and their Rennet tablets which nudge along the cheese curdling process. Friends who have made cheese say it's pretty easy. Ricotta too is on the radar. Looks like I'll be taking out stock in Snowville Creamery and Junket.
I do find modernist cooking intriguing, artful, and delicious, but I am quite content to let my mad-scientist foodie friends sort out the mod-dinners for now. Perhaps owning a copy of
Modernist Cuisine
is more a bucket list goal than actually using it at this point.